Timothy Watson
9th April 2021
3 minutes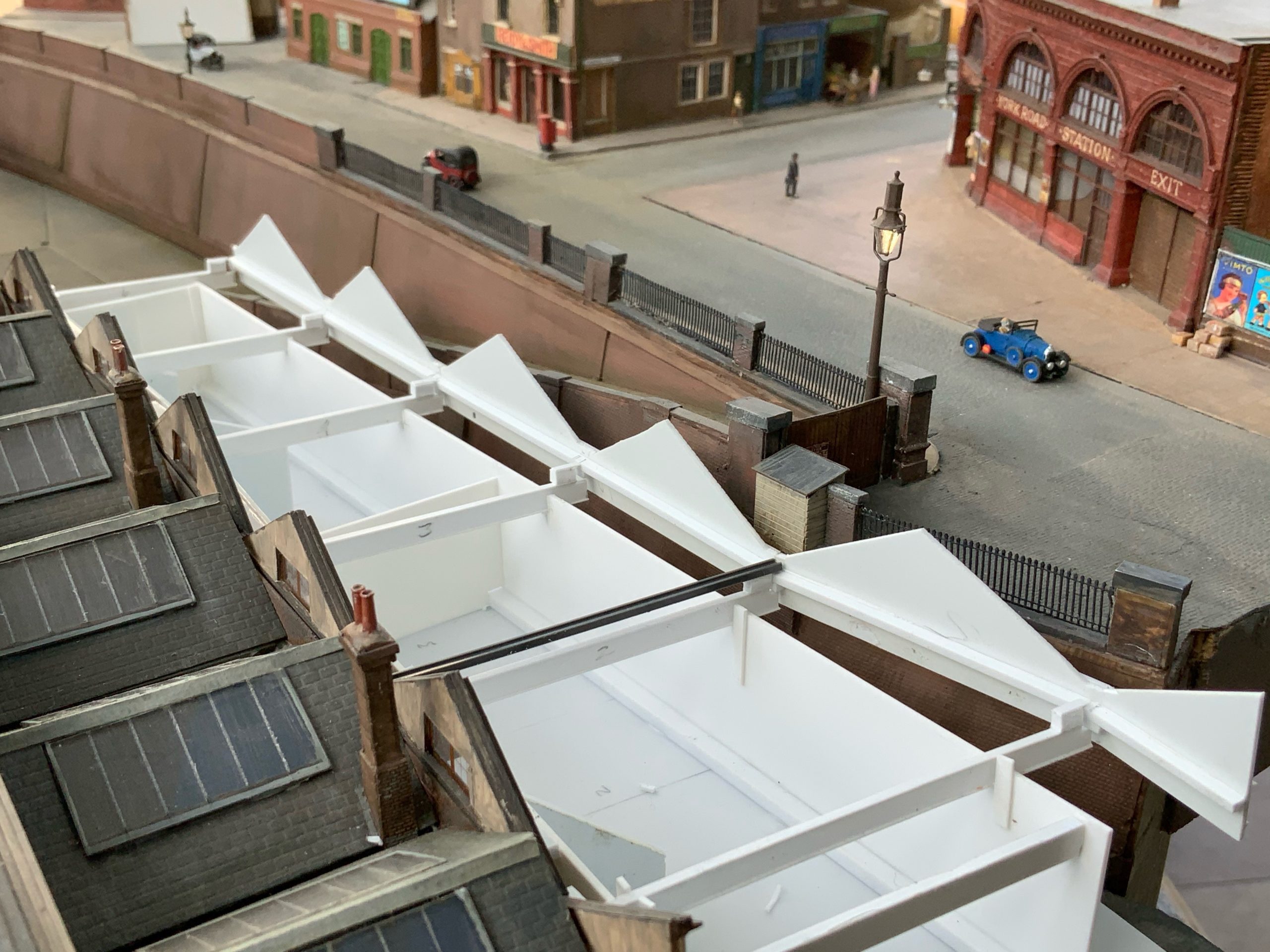 The Potato Market cart road canopies in the KX Goods Yard have been progressing, albeit a little slowly. The frontage is quite tricky in the way it interacts with the warehouse behind. Nothing is simple on Copenhagen Fields
A jig has been invaluable for assembling the roof, which consists of a remarkably complex set of shapes, floating effectively in thin air.  The gutters and I beams are supported by the jig, so allowing the glazing to be made and fitted.
The glazing has been made from a polyester material, with partial slate coverage on the York Road side.
There is currently no means of front support other than a piece of styrene propping up the construction at the front. Pip isn't fussed either way…
The main colours have been blocked in, but there is no weathering as yet.  A recent addition is the pavement that graced the building frontage.
The view under the canopy roof will be available to the operator, but scarcely the public. In this view, the current precarious support  for the structure can be seen as the beams are not correctly fitted onto their pads and sockets in the walls. It will, of course, have Tom Everitt's excellent 3D printed columns supporting the roof, but they have yet to be cast in metal.
At the very end, there will be a substantial sheet of Perspex which will both support the roof and provide a window into this scene. The slightly foggy glass in the roof will obscure some of the detail below when viewed from the public side, whilst the roof supporting iron work will be simplified, as it is very fine. A recent colour image has shown that the lintels were not a red brick, so those will need to be changed. Various individuals are beavering away at carts to complete the scene…
The name boards are in hand with Ben Weiner. I wonder who will be on them?
Booking for our special 'behind the scenes' week end with CF is now live on the Club web site https://www.themodelrailwayclub.org/events/copenhagen-fields-behind-the-scenes/ and the next issue of Railway Modeller will have a write-up about the concept. The production run of the KX Goods Station Refreshment Club mugs is also about to be delivered and details will be in the webshop, when available.
Thursday Track Nights
We are open on Thursday evenings from 7pm to 9pm at our Keen House clubrooms. Visitors are welcome, please come along and introduce yourself.
Address:
Keen House, 4 Calshot Street, London, N1 9DA
Become a member